Former Coach Mike Leach Dead at 61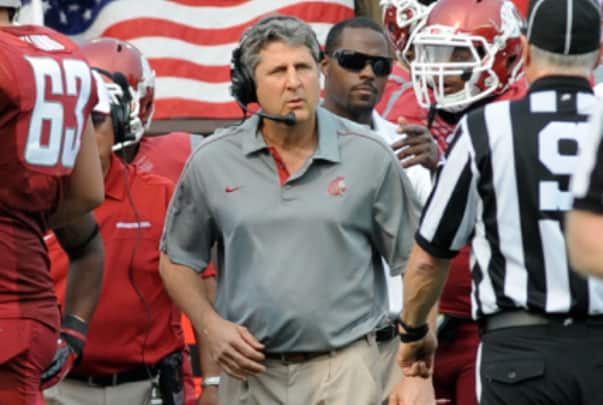 Mike Leach, Washington State Cougars (photo by WSU Marketing, via Wikimedia).
Former Washington State Cougars Head Coach Mike Leach passed away Monday in Mississippi. He leaves an indelible legacy both on and off the field.
When I read about Mike Leach's passing this morning, it was hard to swallow. At just 61 years old, the former Washington State Cougars head coach seemed like he had plenty left in the tank until a heart attack took him away.
I don't claim to be a Mike Leach expert, but I watched a bunch of games he coached. I respected the heck out of the guy and what he did for the Washington State Cougars.
Leach and Hal Mumme are the "Godfathers" of the "Air Raid" offense. They were innovators in a game that's hard to come up with something new.
The Show comes to Pullman, WA
A school like Washington State isn't on the beaten path. Leach's creativity led to results that put the Cougs on the map. His Air Raid offense was a show that garnered high-profile recruits and media attention.
It took a little time to get the program headed in the right direction. The Cougs didn't have a winning record in any of his first three seasons on the Palouse, posting a combined 12-23 record with one bowl appearance. Then came the golden era.
From 2015-18, the Washington State Cougars were 37-15. Among the highlights was a 26-10 Pac-12 record, four bowl games, and finishing the 2018 season ranked 10th in the polls.
Along the way, Leach was a two-time Pac-12 Coach of the Year and the 2018 AFCA (American Football Coaches Association) Coach of the Year. Between a successful team and the WSU flag bearers' incredible streak, they drew ESPN College GameDay to Pullman in 2018.
Through his system, Cougar quarterbacks Jeff Tuel, Luke Falk, Gardner Minshew, and Anthony Gordon all had shots at playing in the National Football League. Quarterbacks get headlines, but 19 other players from Leach's eight-year tenure at Washington State also went to the NFL. And surprise, almost half of them played defense.
Next Page 2 – Never at a Loss for Words