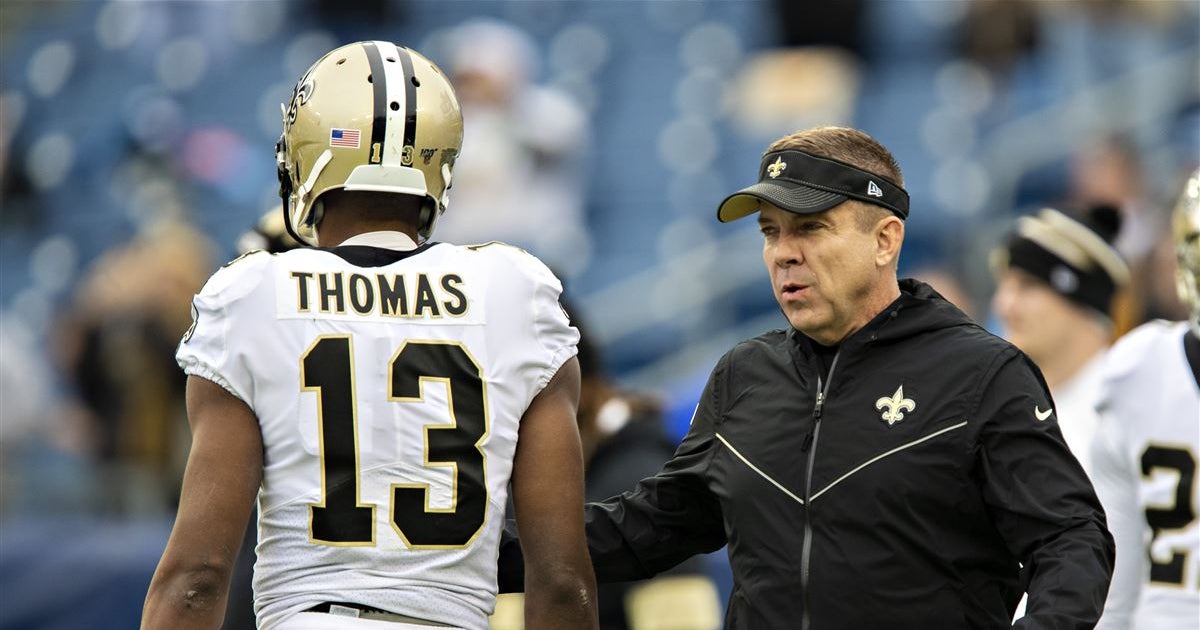 Sean Payton expresses frustration that Michael Thomas' surgery wasn't done sooner
New Orleans Saints wide receiver Michael Thomas had an injury-plagued 2020 season. He played in just seven games with five starts, and the team was hoping he'd bounce back and play a full, productive season. That won't be the case, as Thomas underwent ankle surgery in June and will miss the start of the regular season.
Many, including Saints head coach Sean Payton, wondered why Thomas didn't opt for surgery earlier in the offseason. Payton expressed frustration Wednesday night over that fact, but declined to elaborate why he waited to have the procedure.
"Well, look, it appears we're gonna have to spend some time without him. It's disappointing," Payton said during his opening training camp videoconference before the Saints' first practice Thursday, via ESPN. "And we'll work through it with the other players that are here. But the surgery took place, and obviously we would've liked that to happen earlier than later. And quite honestly, it should've."
On SportsCenter Saturday morning, ESPN NFL insider Jeremy Fowler reported that the Saints are, "frustrated," because the operation wasn't done sooner.
"The Saints are frustrated," Fowler said. "They had hoped this would get done earlier. There was some consternation in this relationship back in the season when Michael Thomas had an issue with a teammate, got into a fight, missed some games because of his injury. And so, this is a player they want back in a big way.
"As the Saints teammate told me, though, Thomas is the kind of guy that plays with a chip on his shoulder. He has to be completely healthy in order to be on the field. And so, he had to get this done. So, the concern now is you're looking at four months or more because ankle surgeries, at the least, take a while because of the way he has to push and cut off that foot. So, there's a very real chance he could miss more than just the very beginning of the season."
Getting Thomas back to fully healthy will be crucial for New Orleans if it wants to compete this year. In 2019, the Saints leaned heavily on Thomas as he caught 149 passes for 1,725 yards and nine touchdowns, all career-high totals. But Thomas played in a mere seven games in 2020, catching 40 passes for 438 yards and no touchdowns while he battled the ankle injury.
Get the fastest scores, stats, news, LIVE videos, and more. CLICK HERE to download the CBS Sports Mobile App and get the latest on your team today.
Once Thomas is able to play in this offense, it will be huge for the Saints' offense that is undergoing a major change. Drew Brees' retirement opens a hole at New Orleans' starting quarterback job, a battle between Jameis Winston and Taysom Hill.
Riley Gates contributed to this report.