Land Rover Range Rover Sport Remade as A 'Stealth-like' SUV
A new generation of Land Rover Range Rover debuted last year and there was no question that a fresh Range Rover Sport was soon on the way. The Great Britain-based automaker has delivered.
"The launch is especially important to us and our U.S. customers as it's the most popular vehicle sold in the country," Joe Eberhardt, president of Jaguar Land Rover North America said during an exclusive press preview of the model. "Range Rover Sport customers are our most loyal customers," he continued, sharing that the company sends one in three Range Rover Sports sold in U.S. to either Los Angeles, Miami or New York City.
The 2023 Land Rover Range Rover Sport combines the looks and technology of the fifth-generation Range Rover into a smaller, more budget-friendly package. It too features a reductive design approach, with its muscular looks combining with sporty nods to deliver 'stealth-like' looks.
"Our latest range Rover Sport embraces fully our modernist approach of vehicle design whilst amplifying its unquestionable sporting and confident character," said Prof Gerry McGovern, Jaguar Land Rover's chief creative officer.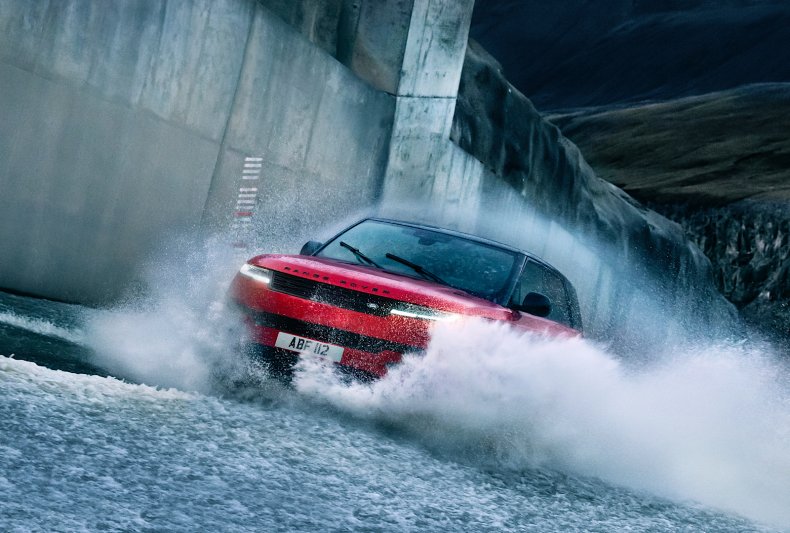 Its front end, complete with a new Matte Graphite Atlas grille, black accents, and unique daytime running light signature, is assertive. The rear features a steep rake illuminated by surface LED technology – the first in an automobile. Land Rover's design team has the given the SUV the longest spoiler ever fitted to a Range Rover.
The new Range Rover Sport is markedly more aerodynamic than a new Porsche 911, with a lower coefficient of drag than the legendary sports car.
Buyers can equip their Range Rover Sport with Satin Grey alloy wheels that are complemented by Satin Burnished Copper finishes on the hood louvres and side ingots. Front and rear bumpers, and lower cladding are finished in the SUV's body color.
First Edition models get Dynamic Response Pro, a system that introduced switchable-volume air springs that works hand-in-hand with the car's air suspension. It can apply up to 1,000 pound-feet of torque across the axle of the SUV, changing up the cornering composure of the vehicle.
The same air suspension uses navigation data to "see" the road ahead and adjust accordingly in order to offer riders a better in-seat experience.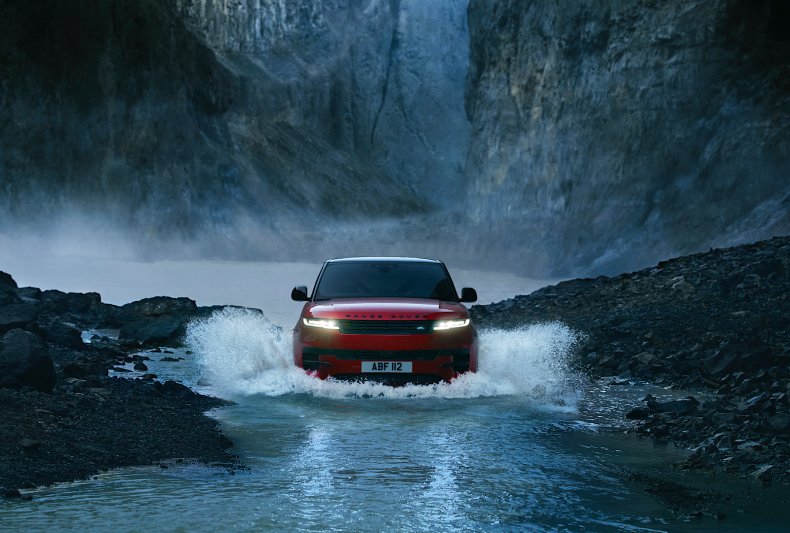 Land Rover will sell the new Range Rover Sport in four trim levels: P360 SE, P400 SE Dynamic, P440e Autobiography, and P530 First Edition. The First Edition model will only be available for the 2023 model year and it will feature a unique specification.
The luxury automaker will only sell the SUV with a hybrid powertrain outside of its powerful V8 variant. Range Rover Sport SE and Dynamic grades come with a 3.0-liter mild hybrid engine that delivers 355 or 395 horsepower and 369 or 406 pound-feet of torque, respectively.
The Range Rover Sport P440e combines a six-cylinder engine with a 105-kilowatt electric motor and 31.8-kilowatt-hour battery to deliver 434 horsepower. The plug-in hybrid electric vehicle's (PHEV) powertrain can move the car from zero to 60 miles per hour (mph) in 5.5 seconds. That model can charge to 80 percent in an hour.
Land Rover will sell First Edition models with a twin-turbocharged V8 under the hood that makes 523 horsepower and 553 pound-feet of torque. It can get to 60 mph from a standstill in 4.3 seconds making it the quickest Range Rover Sport in the lineup.
All Range Rover Sport models come equipped with an eight-speed automatic transmission and all-wheel drive.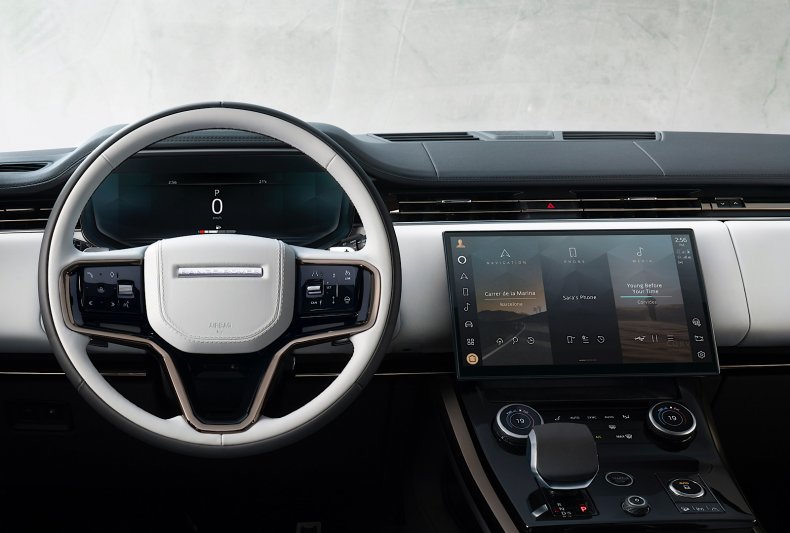 In 2024, a new Range Rover Sport all-electric model will be added.
All-wheel steering aims to make this Range Rover Sport more agile than the previous edition, giving it the turning radius of a MINI Cooper. First Edition models combine this technology with torque vectoring, an electronic differential and configurable programs for enhanced sporting dynamics.
For the first time, Land Rover is adding adaptive off-road cruise control to a model. As it can do in Ford and GMC models, the technology can keep the model moving at a steady speed over rough terrain.
Like the Range Rover, the Range Rover Sport features a cabin that provides what is needed for a luxury driving experience, and nothing more. Its bathed in sustainable materials and will be available to order in two-tone colorways. Buyers can also choose Windsor or soft semi-Aniline leather leather.
Twenty-two-way power-adjustable, heated and ventilated front seats with memory have massage functionality and winged headrests. Their deeply cushioned seat has sofa-like qualities while the structure of the seat is ergonomically beneficial for winding roads.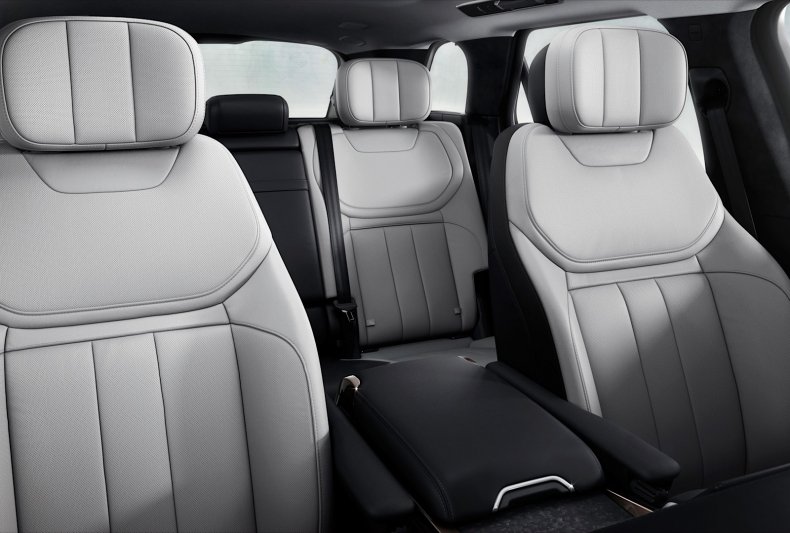 The front seats are positioned to allow for expansive rear-seat legroom, upgraded from the last version of the model.
Moonlight Chrome-colored finishes are integrated into the Meridian audio system speakers. The top-notch Meridian Signature Sound System has 29 speakers including four in headrests.
A new cabin air purification system is designed to reduce odors, bacteria and allergens, including the presence of the SARS-CoV-2 virus. Filters are present in the front of the car as well as the second row.
Active noise cancelling, deployable door handles with proximity sensing, soft close doors and approach unlock technology are part of Range Rover Sport packaging.
At the center of the dashboard is 13.1-inch curved infotainment touch screen that runs Jaguar Land Rover's Pivi Pro infotainment system. It's matched by a 13.7-inch all-digital instrument cluster.
Included infotainment technology includes Amazon Alexa, wireless Apple CarPlay, wireless Android Auto and a wireless smartphone charger.
Over-the-air technological updates are available for 63 electronic modules on the vehicle.
Pricing for the 2023 Land Rover Range Rover Sport starts at $83,000 for the P360 SE. The more powerful P400 SE Dynamic comes in at $90,000. Getting the PHEV will set you back $104,200 while the top-tier P530 First Edition costs $121,500.