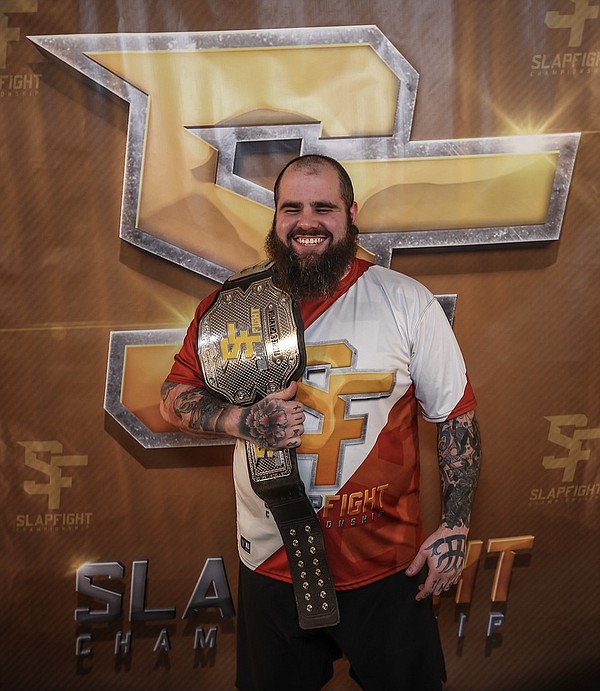 Kind Mid-Missouri man thrives at brutal sport
When it comes to slaps, Will Smith has nothing on Fulton's Frank Holland.
Known as "Frank the Tank" in the professional slap fighting world, Holland is one of the top pay-per-view draws in the growing sport. It involves fighters taking turns giving and receiving open-handed slaps to the cheek until one gives up, is knocked out or can't continue.
Holland, with a full beard and tattoos, is feared by opponents for his striking power and speed. With a single open-handed strike to the cheek, he's knocked unconscious some of the toughest guys in the SlapFIGHT Championship league.
He's also a flat-out nice guy. He's humble, soft-spoken and — when he's not fighting — works with children in a behavioral health program.
He's friends with many of the people he competes against. Sometimes after hitting an opponent, he takes a knee and respectfully waits to see if they can recover enough to continue. After being hit, he's known for shaking it off and flashing a kind smile.
It's this demeanor that has earned him the People's Champion title.
"Frank is the heartbeat of our organization," SlapFIGHT CEO JT Tilley said. "We love him at SlapFIGHT Championship. Not only has he become the People's Champion, but he's also become a mentor to all of the new talent. Frank will be with our company long after he retires."
Holland wasn't a high school athlete, but tried his hand at MMA fighting around 2012, losing his first fight. In 2014, he got pneumonia and was in the hospital for nearly a week, part of that time in an intensive care unit with a ventilator helping him breathe.
When he was recovering, Tilley asked him: "How would you like to try slap fighting?"
"I had no idea what it was," Holland said.
When Tilley explained the sport, Holland reluctantly agreed to give it a try.
Now, he has racked up a record of 12-7 and is ranked fourth in the United States in the heavyweight division. About half of his wins have been TKOs. The only losses he has had are from champions.
Holland dropped from the ultra-heavyweight category to the heavyweight category, 225-265 pounds.
His next fight is against Darius The Destroyer, the undefeated current heavyweight champion. Holland has faced him several times and lost each time.
"He has a durability that probably no other fighter has," Holland said.
Holland said slap fighting doesn't have the chess-match-like strategy MMA fighting has. It's a simple sport, and he has a simple strategy.
"My basic game plan is to knock him out, hit him as hard as I can until he quits, but it doesn't always work out that way," he said.
Despite his simple strategy, he's taken steps to up his game. He's on a strict high-protein, low-carb diet and is working out six days a week with the help of Chris Pittmon, a personal trainer at Fulton Fitness Center.
Slap fighting is growing, but it's still a fringe sport and even the big names aren't getting rich. Holland doesn't do it for the money, but for the love of the sport.
"Honestly, it's the physical interaction, getting to hit somebody as hard as you can and being able to have the willpower to take the same hit," he said. "The respect and camaraderie from all the fighters is another great thing. Everybody is very respectful. For the most part, everyone is humble."
So what is Holland's take on Will Smith and "the slap heard 'round the world?"
He said Smith would be penalized for pivoting his feet during the slap, but added: "It was a fairly good slap. I don't think it was meant to be super hard or anything."
In the accompanying video, Frank "The Tank" Holland works out with his personal trainer.