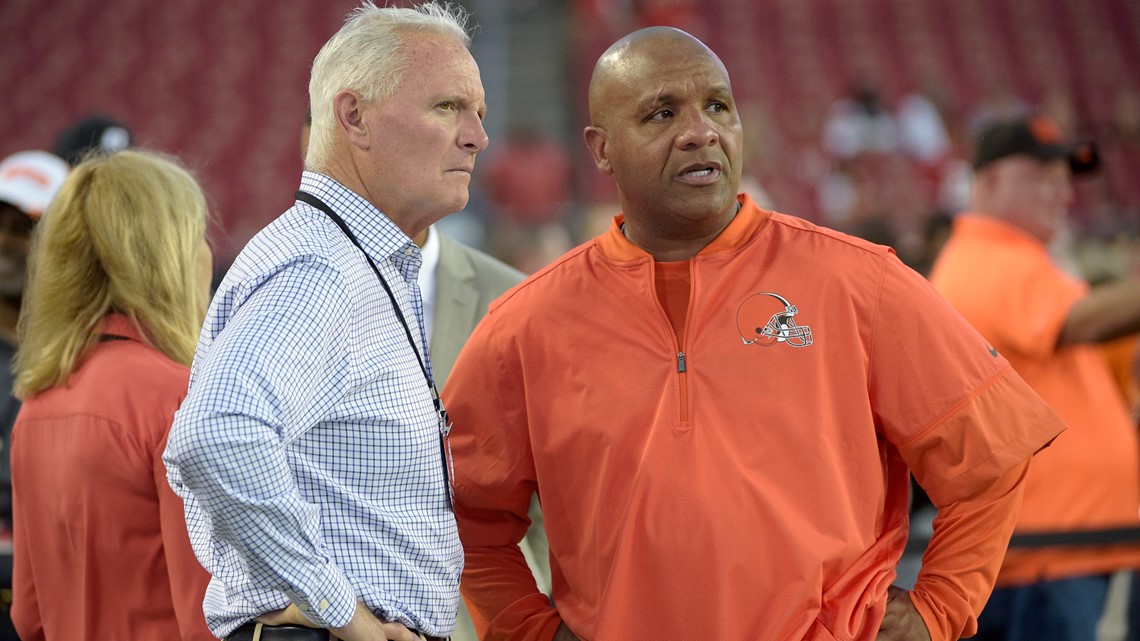 Hue Jackson will consider joining Brian Flores' NFL lawsuit
Appearing on ESPN's Sportscenter, former Cleveland Browns head coach Hue Jackson clarified his allegations against the team.
CLEVELAND — Editor's note: the video in the player above is from a previous story.
Former Cleveland Browns head coach Hue Jackson made headlines this week when he implied on social media that he was financially incentivized to lose games during his time with the team — a claim the team has since denied.
RELATED: More Cleveland Browns coverage from WKYC
Appearing on ESPN's "Sportscenter" on Wednesday night, however, the now-Grambling State head coach declined to say that any financial reward he received wasn't explicit, but rather the result of a four-year plan that didn't initially prioritize winning.
"The way the team was built, there was no chance to win and win at a high level. You're in a situation where what you have to do is do the best you can," Jackson said. "There was a four-year plan that was crafted and I have documentation of that that I think any coach would cringe if he saw it because it talked about thing that had nothing to do with winning — aggregate rankings, being the youngest team, having so many draft picks — none of those things are what lead to winning."
Despite amassing a 1-15 record in his first season with the Browns in 2016, Jackson said he received a bonus at the end of the season that didn't relate to the team's record. Following the 2017 campaign, in which Cleveland went 0-16, Jackson said he received a contract extension after telling Browns owner Jimmy Haslam that his 1-31 start with the team had ruined his coaching career.
After being fired by Cleveland following a 2-5-1 start to the 2018 season, Jackson filed a grievance with the NFL, but an arbitrator ultimately ruled in the Browns' favor. On Wednesday, the Browns released a statement denying claims made by Jackson and the director of his foundation, Kimberly Diemert, who alleged that Jackson, as well as former Browns general manager Sashi Brown, current chief strategy officer Paul DePodesta and then-Browns vice president of player personnel (and current general manager) Andrew Berry were paid bonuses for losses during the 2016 and 2017 seasons.
"The recent comments by Hue Jackson and his representatives relating to his tenure as our head coach are completely fabricated," a team spokesperson said. "Any accusation that any member of our organization was incentivized to deliberately lose games is categorically false."
Jackson's comments this week were spurred by a class-action lawsuit filed by Brian Flores against the NFL and three of its teams — the Miami Dolphins, Denver Broncos and New York Giants — alleging racism in their hiring practices. Among Flores' claims is the allegation that he was offered a $100,000 bonus for each loss as the Dolphins head coach in 2019 as Miami attempted to bolster its position in the NFL Draft.
On SportsCenter, Jackson said that he would consider joining Flores' lawsuit.
"I'm not afraid to stand behind Brian," Jackson said.