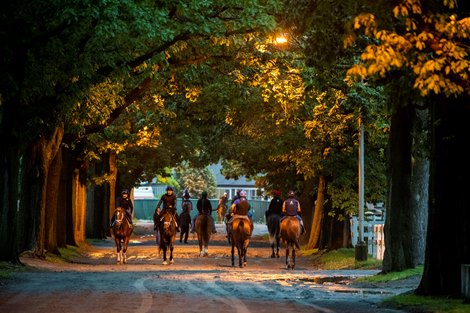 GoFundMe Launched for Injured Exercise Rider Pezua
A GoFundMe page to help with medical costs for injured exercise rider and former jockey Julio Molina Pezua has been established by horse owner Aron Yagoda. 
Pezua, an exercise rider for trainer Linda Rice, was injured April 2 in a training accident at Belmont Park when his mount, Five Alarm Robin, incurred a fatal cardiovascular event and unseated the veteran rider. Pezua was transported to Winthrop Hospital, where he underwent surgery and remains as a patient.
As a jockey, Pezua, 65, was a multiple graded stakes winning rider, who won 1,316 races, including Grade 1 scores at Belmont Park with Dixie Brass in the 1992 Metropolitan Handicap and aboard Silver Voice in the 1987 Manhattan Handicap. 
Yagoda said that as a student in the 1980s at the University of Miami, he began following the career of Pezua, then riding in South Florida. Yagoda said that since setting up the GoFundMe page on Monday that numerous donations have already come in, demonstrating how the horse racing community comes together in times of need.
"You have so much competition, and yet when somebody gets injured, people look out for one another," said Yagoda, a board member of the New York Thoroughbred Horsemen's Association (NYTHA). "It says a lot about the people in our sport."

 
Industry News Releases – In support of Thoroughbred industry organizations, BloodHorse is posting news releases relating to the industry. The releases have not been edited by BloodHorse. If there are any questions please contact the organization that has produced the news release as directed in the news release.